Artling Special Guest: HELENE KNOOP -
NEWS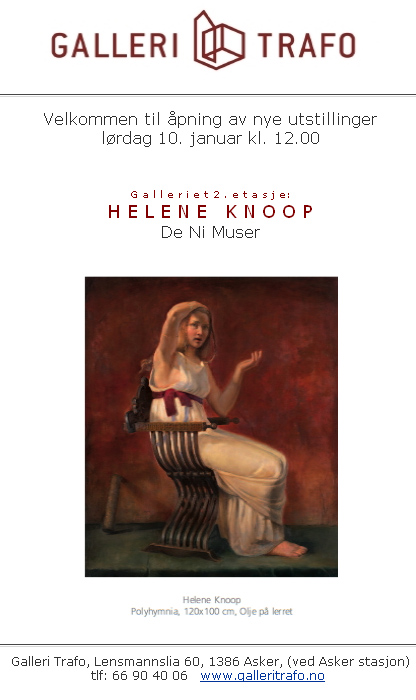 Despair, recent paintings at www.heleneknoop.com
Upcoming exhibition in New York:"Déjà-vu".
Opening at Trygve Lie Gallery the 18th of January 2007, between 6-8 pm.
New paintings by Helene Knoop.

Visit Trygve Lie Gallery at 317 East 52nd Street New York, NY 10022, USA or at
www.trygveliegallery.com
The exhibition, Déjà-vu , shows images with references to the history of painting and sculpture.
The persons in the paintings express virtues and conditions which connect with your memories and feelings.

Rome-tour.
From February to April 2007, Knoop moves her studio to Rome to study, in situ, the history of painting and sculpture.
Here she will keep on working with her "painting editions" of the Baroque sculptures.
Helene Knoop will also participate in a project together with art historian,
Therese Sjøvoll, creating a pedagogic course based on the experiences of craft and profession.

Prima sezione artisti ospiti > Artilng Special Guests:

NEW > ARTLING SPECIAL GUEST (2) < NEW Seconda sezione artisti ospiti (2) :


ARTLING HOME